News
Where to shop on Sunday?
In addition to traditional forms of recreation, many of us make purchases while traveling. Short weekend trips are an ideal opportunity to visit foreign stores and above all, bring a souvenir, eg a new T-shirt. The European Consumer Centers (ECC-Net) have summarized where in the EU you can shop on Sundays.  The ECC-Net covering the EU, Norway and Iceland countries answered the question: Is there a legal prohibition of trading on Sundays (besides public holidays)? Results:
There is no total ban on Sunday trading in any country!
19 countries indicated that there are no trade restrictions on Sunday (63%)
There is a partial trade ban in 11 countries (37%)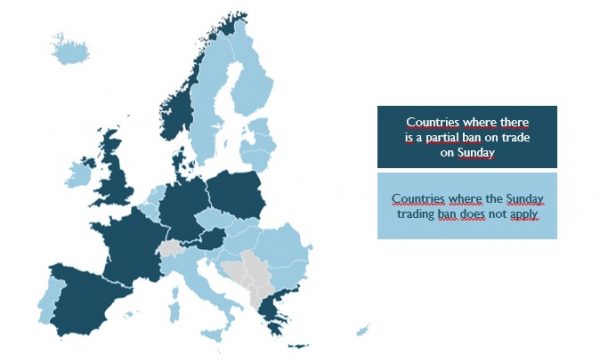 No ban: Belgium: there is no ban on Sunday trading but there is an obligation to close the store one day a week. Portugal: no ban, municipalities can regulate the opening hours of stores and limit them to specific hours in specific districts. Most municipalities, however, allow to open stores on Sundays. Slovenia: there is no obligation to close shops, however, there is a stipulation in the labor law that a given employee can work up to two Sundays a month (no more than 15 Sundays/year). Partial ban: Only on selected Sundays / hours: Denmark: stores can be opened from 10 a.m. to 5 p.m. on the first Sunday of each month and every Sunday in December (until December 24). In addition, stores can be opened for six Sundays a year from 10 a.m. to 5 p.m. (two of them must fall from 1 July to 1 September). France: the municipal council establishes twelve Sundays a year in which stores can be opened. The list must be set by December 31 of the previous year, the date may be changed two months before the first opening. Greece: stores can be opened: on the first Sunday of winter sales, the first Sunday of summer sales, the first Sunday of May, the first Sunday of November. If a state holiday occurs on any of the Sundays listed then the store may be opened on Palm Sunday or one of the two Sundays before Christmas or on the last Sunday of the year. Spain: the ban does not apply to certain Sundays. The stores, however, are to be closed for a minimum of 10 to 16 Sundays a year (this is determined by the municipalities – autonomous communities). Malta: all stores can be opened between November 1 and January 7 from 4 a.m. to 10 p.m.; while from January 8 to October 31 stores can be opened from 7 a.m. to 5 p.m. provided that is reported another day when the shop will be closed. Poland: In 2018, (since March) shops are to be opened on first and last Sundays of the month In 2019, shops are to be opened on last Sundays of the month, from 2020 almost every Sundays Great Britain: large stores (over 280 m2) can be opened between 10 a.m.-6 p.m. for up to 6 hours Selected categories of stores / products exempted from the ban: In most countries pharmacies (at least on-duty) and shops at petrol stations, railway stations, airports are normally open. Austria: flowers, candles, religious goods, postcards, sports articles during summer and winter tourist seasons, food and flowers during church ceremonies. France: shops without staff, bakeries, pastry shops, all grocery stores can be open until I p.m.. Greece: pastry shops, florists. Spain: pastry shops, bakeries, florists, newspaper kiosks, small shops (less than 300m2). Germany: florists, pastry shops, shops located in tourist areas. Norway: grocery stores and kiosks with an area up to 100 m2, tourist shops or small local shops. Poland: florists, souvenir shops, bakeries, patisseries, kiosks, post offices, shops in hotels, hospitals and in cultural and sport events. Great Britain: agricultural stores that sell their own products (including fish sellers); small shops with an area up to 280 m2. Differences depending on the region: Austria: there are exceptions regarding places of pilgrimage, tourist regions, eg Vienna: gifts and sweets can be sold without restrictions; florists can be opened on six Sundays or public holidays a year (until 5 p.m.). France: the ban does not include tourist zones; in commercial areas with a retail area of over 20 000 m2, over 2 000 000 customers and 100 000 residents. Greece: the authorities in the region may decide to open the stores in the tourist regions. Spain: shops located in tourist resorts and border areas. Germany: there are many exceptions to the ban, they are regulated by the region. Malta: shops can be opened in tourist destinations.